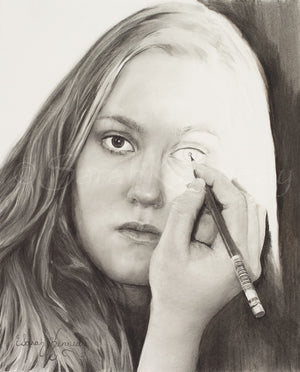 Putting My Face On
Sale price Price $200.00 Regular price
Pencil and charcoal on paper.
Limited Edition Print of 50. Image Size 11 x 14" | Paper Size 15 x 18"
Giclee printed with archival inks on 100% Cotton rag.
Hand signed, titled, and numbered by Sarah Kennedy.
The concept for this piece was actually born from fond memories of my childhood. My grandparents live 1200 miles from us, and every summer they would drive out in their RV for an extended visit. My brothers and I would race to cram into their tiny home-away-from-home as soon as we woke up. Every morning my Grandma would sit and read the paper while she sipped her scalding coffee. When she finished, she would invariably lay aside the paper, stand, and announce, "I'm going to go put my face on". These words apparently rode around in the back of my mind for ten years before they surfaced one day as an image to be drawn...