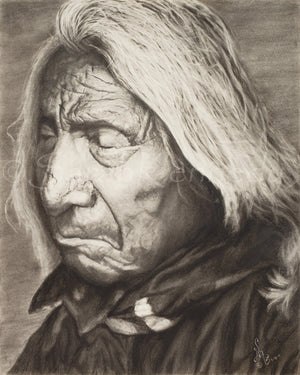 Red Cloud
Sale price Price $200.00 Regular price
Pencil and charcoal on paper.
Limited Edition Print of 100. Image Size 11 x 13 1/2" | Paper Size 15 x 17 1/2"
Giclee printed with archival inks on 100% Cotton rag.
Hand signed, titled, and numbered by Sarah Kennedy.
He was raised on war, battling neighboring Crow and Pawnee from a young age. As he grew, so did his reputation for his skills in battle and raiding. At only fifteen years of age he accompanied a war-party that killed eighty Pawnee. He took two scalps and shot a man. Two years later he lead a band that killed eight of the same tribe. He continued to claim more scalps and lives over his long life, both other tribes and whites. He became a legend for his military prowess and a well-respected leader of his people.
I am struck by the quiet in his demeanor here... even in the wildest of storms there is a place of stillness to be found.