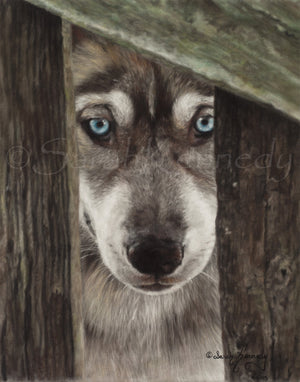 Oakley
Sale price Price $200.00 Regular price
Original soft pastel on Velour.
Limited Edition Print of 100. Image Size 11 x 14" | Paper Size 15 x 18"
Giclee printed with archival inks on 100% Cotton rag.
Hand signed, titled, and numbered by Sarah Kennedy.
My cousin brought her puppy to my grandparent's house while we were visiting one year. He was bouncy with energy, had a stick fetish, and reveled in the abundant attention from his new admirers. My grandpa was grilling us lunch that day, and after Oakley almost succeeded in snagging himself a pork chop, we locked him in the back yard to avoid a second attempt. This was his face as we all went inside to eat. Poor baby. I promise he did live through it though.