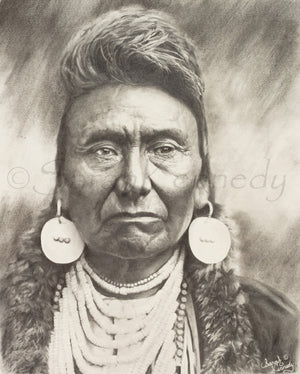 Chief Joseph
Sale price Price $200.00 Regular price
Pencil and charcoal on paper.
Limited Edition Print of 100. Image Size 13 1/4 x 15 5/8" | Paper Size 17 1/4 x 19 5/8"
Giclee printed with archival inks on 100% Cotton Rag.
Hand signed, titled, and numbered by Sarah Kennedy.
"From where the sun now stands, I will fight no more forever." ~ Chief Joseph (Hin-mah-too-yah-lat-kekt), Nez Perce
I think most of us are familiar with these iconic words attributed to the most well-known leader of Northwestern tribes in all of history. They saw him more as a peace leader than a war chief, and his story is one of a noble heart caught in a tragic situation. Though forced into various battles as they strove to keep their homelands, he was ultimately committed to doing the best for his people while avoiding violence. Not an easy task.
Though his dream of returning to his valley was never realized, the yearning of his heart for peace still resonates within each one of us.