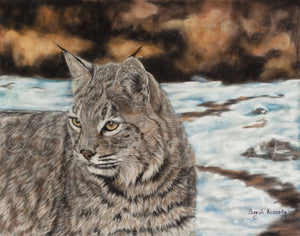 On the Hunt
Sale price Price $200.00 Regular price
Original soft pastel on Velour.
Limited Edition Print of 100. Image Size 11 x 14" | Paper Size 15 x 18"
Giclee printed with archival inks on 100% Cotton rag.
Hand signed, titled, and numbered by Sarah Kennedy.
I captured the reference image for this painting at our local zoo. While he had a beautiful habitat, I imagined he would prefer to be free to catch his own dinner, so that is how I painted him.