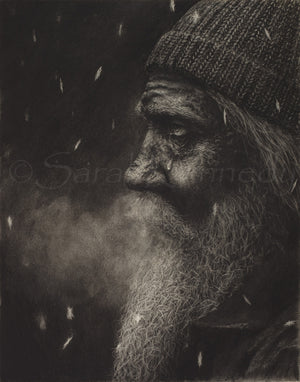 Hush of the Broken
Sale price Price $200.00 Regular price
Original pencil and charcoal on paper.
Limited Edition Print of 100. Image Size 11 x 14" | Paper Size 15 x 18"
Giclee printed with archival inks on 100% Cotton rag.
Hand signed, titled, and numbered by Sarah Kennedy.
I love drawing faces full of wrinkles and lines... it is like tracing a map that tells the story of a person's life.  Each tiny fold came slowly through the years, earned one by one through laughter, hope, and pain. Every person that lives long enough will begin to collect them like words. I glimpse a phrase and can't help but want to read the story.
I had no photo reference for this image, but I think of this man as a veteran. Our military do so much for us. We can all appreciate the visible scars these brave men and women bear, but I suspect it is the hidden wounds that weigh heaviest. Even the strongest souls shed tears -- not a sign of weakness, but proof of their humanity...