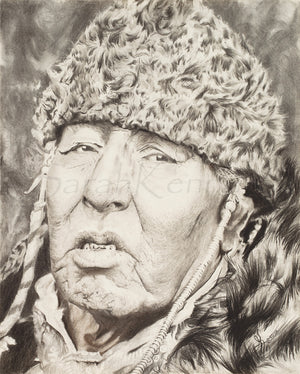 White Dog
Sale price Price $200.00 Regular price
Pencil and charcoal on paper.
Limited Edition Print of 100. Image Size 11 x 13 1/2" | Paper Size 15 x 17 1/2"
Giclee printed with archival inks on 100% Cotton rag.
Hand signed, titled, and numbered by Sarah Kennedy.
This piece marks a turning point in my artistic journey. I had been drawing for a few years, but had reached a point where I felt that my improvement was slow. One day, my dad pulled out this beautiful old book of images taken by Edward S. Curtis: a man dedicated to visually documenting the native way of life that was vanishing before his eyes. He traversed the entire country over a span of 30 years on his self-appointed mission. I was immediately inspired to catch these same spirits of history and free them on my paper, with Apio-mita (or White Dog) being my first subject. It was thrilling to see that my skills seemed to skip the slow upward trudge with this piece, and instead take a wild leap to a higher plateau. I didn't know I could draw like that!!? I now draw with a sense of hesitant anticipation; ever hopeful for another exhilarating surprise...