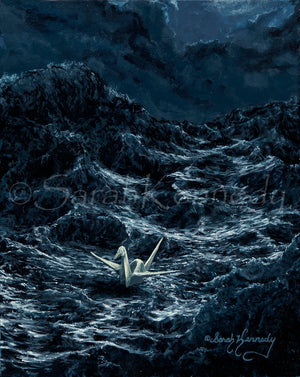 Moonlight Sonata
Sale price Price $175.00 Regular price
Acrylic on canvas.
Limited Edition Print of 100. Image Size  8 x 10" | Paper Size 11 x 13"
Giclee printed with archival inks on 100% Cotton rag.
Hand signed, titled, and numbered by Sarah Kennedy.
Paper cranes do not belong on the ocean. They are things of fragile beauty; lacking the strength to bear the storms of life. It is when we are out of our element and somehow stay afloat that we learn to see the hand of God...