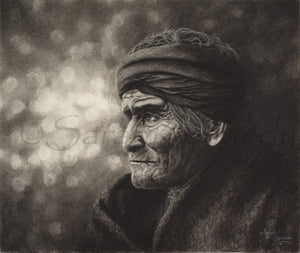 Geronimo
Sale price Price $200.00 Regular price
Pencil and charcoal on paper.
Limited Edition Print of 100. Image Size 13 7/8 x 16 1/2" | Paper Size 17 7/8 x 20 1/2"
Giclee printed with archival inks on 100% Cotton rag.
Hand signed, titled, and numbered by Sarah Kennedy.
I think years of warfare and violence sit heavy on a soul. He was legendary for being a brilliant warrior unmatched in skill and brutality, but I wonder how much peace or happiness could bloom in a heart watered by blood. He was near the end of his days here, and I wonder what he saw as he sat looking back through the veil of time...