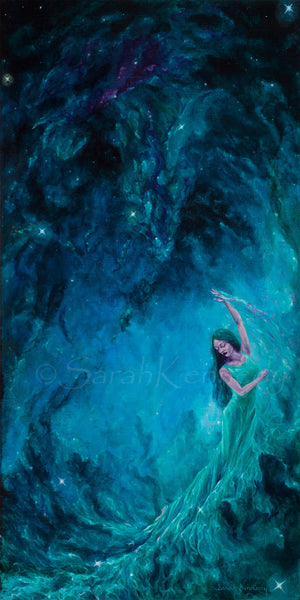 "Aqua"--Nebula Dancer Series
Sale price Price $200.00 Regular price
Acrylic on canvas.
Limited Edition Print of 100. Image Size 10 x 20" | Paper Size 14 x 24"
Giclee printed with archival inks on 100% Cotton rag.
Hand signed, titled, and numbered by Sarah Kennedy.
I love space. Stargazing, looking at pictures of nebulas and galaxies, watching the map of the sky change with the seasons... The intricacies of these never cease to stir my sense of wonder. I am amazed by the nuances of shade and color within a nebula; and just as I daydream about walking in the clouds, I dream of dancing in nebulas. Blue tones have always been some of my favorites, and so I consistently find them taking over the landscape inside my head. Or, in this case, coloring my nebula dance.